At a Glance
Our client, IT Software Co., asked for help to push their commercial productivity, in particular the deployment of their sales resources to the next level. They had a highly analytical culture but had previously been highly focused on the SMB segment. They had been facing headwinds when trying to expand into the enterprise segment. This data-driven company felt the need to build an even better fact base to use as the foundation for their sales and marketing decisions.
At the heart of this approach was the implementation of Bain's MoneyMap, a solution that assesses the likelihood of a customer or a prospect to expand or buy. MoneyMap applies advanced analytics to enrich customer data, find trends, identify variables that correlate to buying, competitor installations in order to score and prioritize accounts.
With MoneyMap, the company was able to make informed decisions about territory design, assign the best accounts to their reps, align marketing efforts on the best accounts and create more impactful sales plays. This translated to a rethink of their top tier accounts, a revitalized outbound motion for frontline sales reps, and 55% increase in win rate across those accounts.
---
Situation
IT Software Co., a leader in IT security, used a traditional method of account coverage and territory design. When it came time for annual sales planning, territory re-alignment and account scoring were mostly solved by adapting results from the prior year with some incremental learning. There was a scoring of accounts based on presumptive likelihood to buy, but those scores were not back tested nor balanced among each territory. While their analytics team was extremely capable, they were focused on other, organization-wide priorities to support rapid growth, leaving a gap in this portion of sales operations optimization. This is a common challenge for sales operations teams.
Our client had an existing propensity-to-buy model, but their sellers or leadership team did not broadly adopt it. IT Software Co knew something needed to change in order to set up their commercial team for success in 2024. With the Coro team, they successfully redesigned territories and accounts, taking into account their likely spend (TAS Estimator), their likelihood to buy (Propensity), and the best channel partners to team with on their products (Partner Sonar).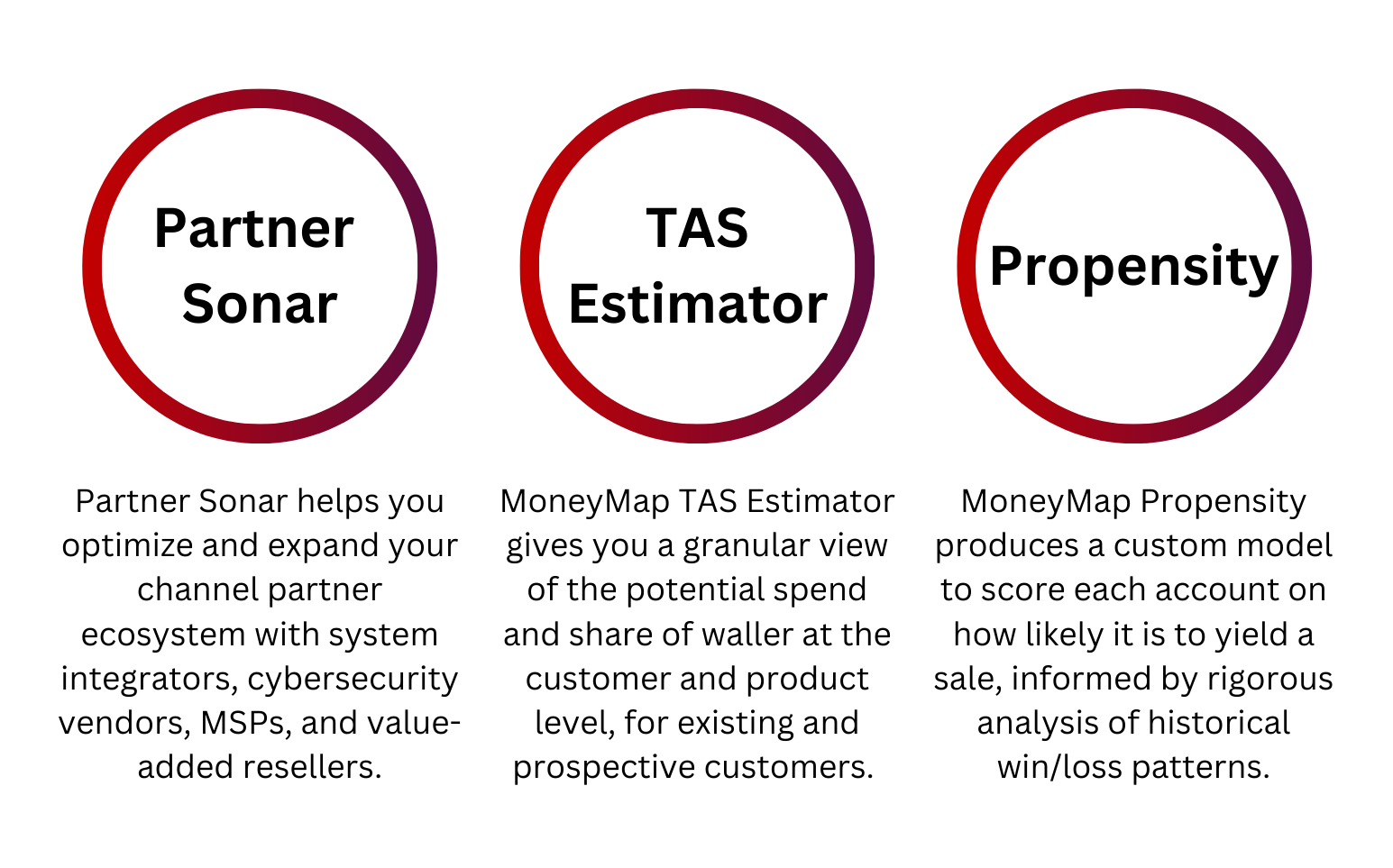 Approach
The Coro team first created a stronger data foundation for the client, including a view of the channel, prospect, and customer data, augmented with their likely spend and with channel partners and their associated capabilities. Partner Sonar allowed IT Software Co's channel team to prioritize which of their current partners should be prioritized to accelerate channel growth. The TAS estimator provided insights to IT Software Co to help re-prioritize sales resources and identify account-level whitespace.
Following the initial MoneyMap and Partner Sonar rollout, the Coro team used Partner Sonar to prioritize partners for upcoming product launches. After sourcing and prioritizing a target prospect list, IT Software Co. mobilized resources and began actively pursuing the shortlist to maximize the impact of upcoming new product launches.
Next, the Coro team assessed IT Software Co's existing propensity model. Once it was back-tested, we found that the highest-scoring accounts had the lowest win rates – which is unfortunately the opposite of what the client had wished. To better optimize sales operations, Coro developed a custom propensity model that scores and prioritizes accounts based on perceived likelihood to purchase using 20 factors across firmographic, technographic and partnership presence. Additionally, using proprietary methods, the Coro team determined incumbents at the time of sale and the time since last switchover for over 20k+ records. The model was built with this competitive installation data, win rates, and other driving indicators. It cleansed and enriched thousands of client records and then trained two propensity models – one for the SMB segment and one for the enterprise segment. Finally, the model was tested to ensure statistical validity.
With the new machine learning propensity model massively out-predicting the incumbent model, IT Software Co and the Coro team leveraged the insights to improve territory alignment, account segmentation, and account coverage. First, MoneyMap TAS and Propensity were used to inform and optimize territories for future route-to-market and sales coverage. The Coro team collaborated with IT Software Co's analytics and sales leadership teams to ensure the field widely accepted the new territories. Finally, they utilized the propensity model to target proactive sales plays at high propensity to buy accounts to efficiently build quality pipeline.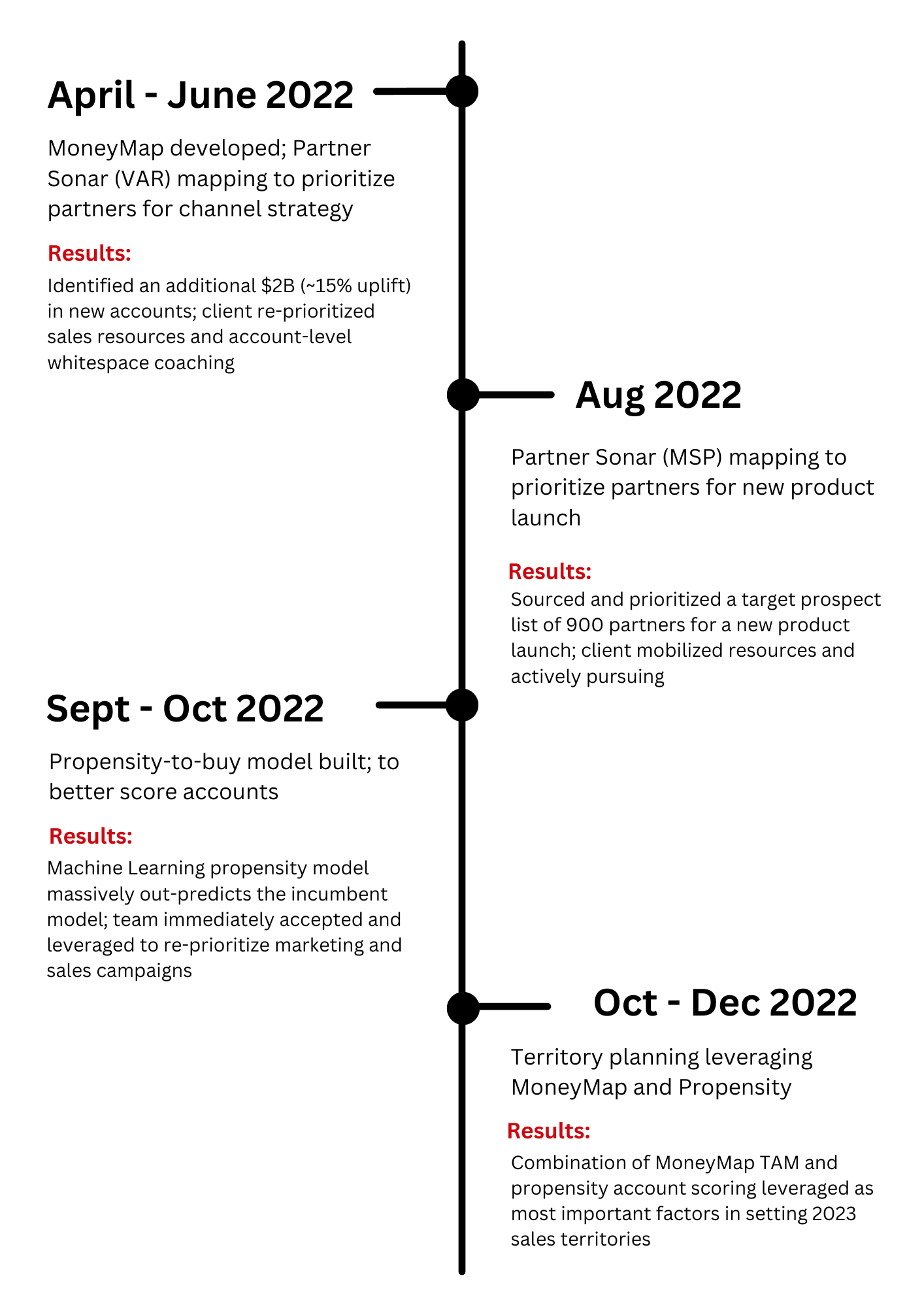 Results
The new propensity model identified top accounts with a win rate 55% above their average. The propensity model provided significant improvement over the incumbent model. The win rate for Tier A accounts was 4x better, there were two times more prospects in the Tier A segment, and the bottoms-up model informed GTM decision decisions and proactive sales plays. Additionally, MoneyMap's scoring of ~170k prospect customer accounts across nine regions ensured equitable distribution of high-quality prospects amongst the sales frontline. The MoneyMap provided significant value in terms of identifying Tier A accounts likely to buy now, accelerating pipeline creation, and driving bottom-line impact.